Sunday, January 31, 2010
Posted by

The Hague
at 5:04 PM
No comments:

yep thats right god damn it! we have two demos that we did with our good friend Nate that you are more than welcome to listen to at www.myspace.com/andiwaslikewhatyeah



Insomnia Sessions:
1. Birthday Suite
2. His Talk; Her Teeth

Love,
Shawn
Posted by

The Hague
at 4:59 PM
No comments:

Sunday, January 24, 2010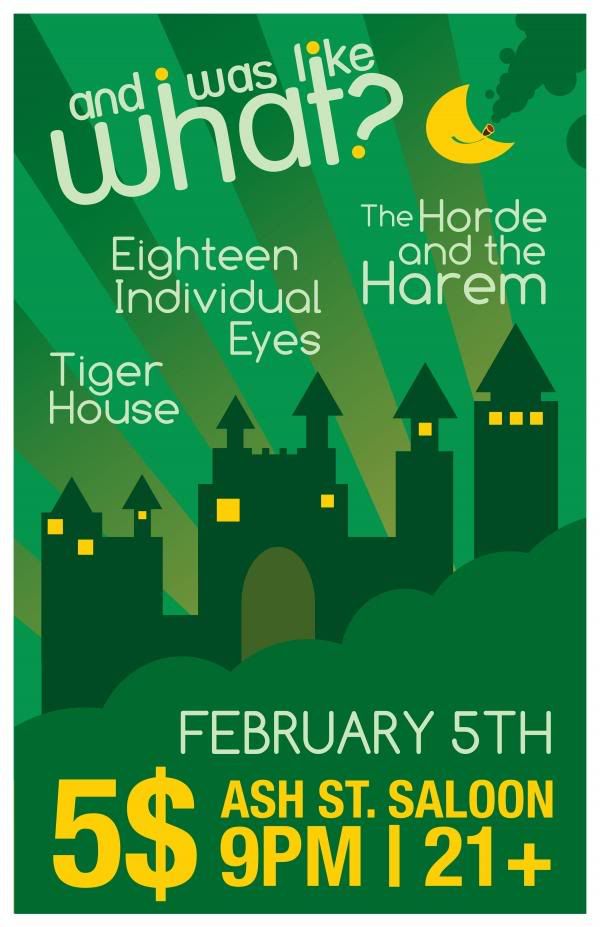 every band is awesome and ash st has cheap beer!
225 SW Ash St
And I Was Like What (Portland/alt-country/indie/americana)
www.myspace.com/andiwaslikewhatyeah
Eighteen Individual Eyes (Seattle/dark indie/alternative/minimalist/amazing)
http://www.myspace.com/eighteenindividualeyes
The Horde And The Harem (Seattle/Indie/alternative/loud!)
http://www.myspace.com/thehordeandtheharem
Tiger House (Portland/fuckin' dance party dude!!)
http://www.myspace.com/tigerhousemusic
love,
shawn
Posted by

The Hague
at 2:43 PM
No comments: